Buffer Pads
Check Out Our Range of Floor & Buffer Pads, for All Your Trade and Business Needs!
Step into the world of floor care with our selection of buffing and scrubbing pads, designed to bring out the best in your floors with superior cleaning and shining results.
Buffer Pads
---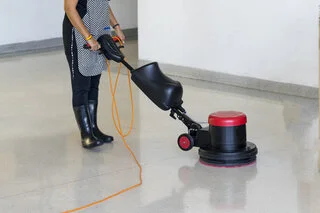 Welcome to our comprehensive range of Buffing Pads, an essential tool for all your polishing and cleaning needs. Whether you're looking to restore shine, remove imperfections, or achieve a pristine finish, our collection offers the perfect solution. Whatever you call floor pads, that be buffer pads or scrubber pads, we have the ideal match for your specific task.
Buffer Pads
Designed for fine polishing and surface preparation, our buffer pads ensure a gleaming finish every time.
Scrubber Pad
Perfect for rigorous cleaning, these scrubber pads effectively remove stubborn grime and dirt.
Floor Pads
Ensure the longevity and aesthetic of your floors with our range of durable floor pads, suitable for various surfaces.
Buffing Pad Colour Guide
| Color | Application | Description |
| --- | --- | --- |
| White | Light cleaning and dry buffing | Least abrasive pad. Used for polishing clean, dry floors. Enhances floor appearance. |
| Red | Spray buffing, light cleaning | Mildly abrasive. Ideal for light scrubbing and removing light soil when damp, and buffing when dry. |
| Blue | Heavy-duty scrubbing | Medium abrasive. Removes dirt and scuff marks from heavily soiled floors prior to recoating. |
| Green | Deep scrubbing | A slightly more abrasive pad. Ideal for scrubbing and removing layers of wax or finish without damaging the floor. |
| Brown/Black | Stripping | Highly abrasive. Used for wet stripping. Effective for removing old finish, wax, and dirt buildup. |
| Tan | Moderate to light dry-polishing | Made with natural hair and synthetic fibers for moderate polishing on hard surfaces. |
| Purple | Aggressive scrubbing and stripping | Highly abrasive pad for deeper cleaning and stripping jobs. |
| Maroon | Prep for recoating | Used for light stripping, deep scrubbing, and preparing the floor for recoating. Often used with square oscillating machines. |
| Gray | Ultra-high-speed burnishing | Very light abrasive, used for burnishing soft finishes. |
Floor Pads: Frequently Asked Questions
| Question | Answer |
| --- | --- |
| How long does a floor buffing pad last? | The longevity of a floor buffing pad depends on its usage, the surface it's used on, and its maintenance. Typically, with regular use, it can last several months. However, it's crucial to inspect the pad regularly for wear and replace when necessary. |
| Can you wash and reuse polishing pads? | Yes, polishing pads can often be washed and reused. Cleaning them after each use extends their lifespan and ensures effective buffing. Rinse them with clean water, gently agitate to remove residues, and let them air dry. |
| Can I machine wash buffing pads? | While some buffing pads are machine washable, it's best to consult the manufacturer's instructions. If machine washing is allowed, use a gentle cycle and avoid fabric softeners or bleach. Air dry the pads after washing. |
| Should I clean my buffing pad? | Definitely. Cleaning your buffing pad after each use ensures its effectiveness and longevity. Proper cleaning removes accumulated residues and prevents potential scratches or damage during subsequent uses. |
| Should you wet polishing pads? | Some polishing tasks may require wetting the pad to reduce friction and heat build-up. However, always refer to the manufacturer's recommendations and the specifications of the product you're using. Wetting can improve performance but might not be suitable for all pads or applications. |
Why Choose The Cleaning Collective?
Premium Quality: We understand the importance of using reliable and superior-quality cleaning supplies. That's why we source our products from trusted brands known for their excellence in the industry.
Wide Selection: No matter what specific cleaning task you have at hand, we have the right supplies to tackle it effectively. Our diverse range of products caters to various cleaning requirements.
Competitive Prices: At The Cleaning Collective, we believe that top-notch cleaning products should be accessible to all. That's why we offer competitive prices without compromising on quality.
Volume Discounts: Our Buy More, Save More initiative means you will save more on the unit price, the more units you purchase.
Business Accounts: Register for a Business Account and additional discounts will be applied to your basket upon checkout.
Expert Advice: Unsure about which cleaning supplies suit your needs best? Our team of cleaning experts is here to assist you in making informed decisions to achieve the best results.
Convenience: With our user-friendly online store, shopping for cleaning supplies has never been easier. Browse through our catalogue, add items to your cart, and experience seamless checkout and fast delivery.
Customer Satisfaction: We prioritise customer satisfaction above all else. Your positive experience with our products and services is our ultimate goal. Check out our quality guarantee.
Cloud MI: Business Account customers enjoy free access to our Cloud MI online portal. This system allows for the housing of your Safety Data Sheets, completion of your COSHH Risk Assessments, COSHH Training, and a financial dashboard to allow you to track your spending/budgets in real-time, and much more.
Product Guru: Our Product Guru helps you find the cleaning solution you require for even the toughest cleaning challenges. Select where you plan to use the product, what you need to use the product on, and why you need to use the product to view the solutions available.
Looking for supplies for home: Our full range of your favourite branded cleaning supplies for your home can be found at our Home Cleaning category.
Find by Brand
Search Here
Product Guru
Find a Solution