Kitchen Degreasers
Check Out Our Great Kitchen Degreasers, to Keep Your Home Clean & Safe!
Kitchen Degreasers
---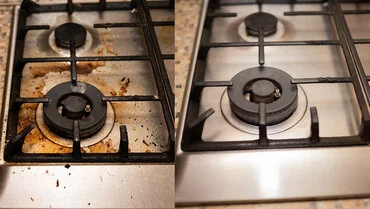 Shop for our range branded and budget kitchen degreasers products.
The kitchen is a place where all sorts of cooking oils are used. Whether in commercial kitchens or homes, specialised products have been designed to clean greasy surfaces and maintain good health standards for you as the cook!
When it comes to maintaining a sanitary environment in commercial kitchens and industrial food preparation areas, regular deep cleaning is an absolute must. This includes drains as well as walls or floors where oils may splatter; if you don't clean these surfaces then the dust will accumulate which attracts germs too!
The right degreaser can do wonders for your home cooking, cleaning, and maintenance. Use it in the kitchen or any other room that needs extra TLC!
Regardless of the type, they are best cleaned from bottom to top. First, start with the floor and then move on up!
The key thing about any kitchen is that you need to make sure it's clean all over - including underneath furniture or behind appliances for them not to get dirty again after one use which would lead us back here where we started (and possibly frustrated). So, if there happens to be something caught between those cracks? Grab your mop ready because these areas will take extra attention since gross-looking stuff might have collected there first before moving onto on other parts.
Use the cleaning degreaser to remove any dirt and grime from your floors. Allow its dwell time, approximately two minutes or less depending on how dirty it is for a thorough cleanse that will last all day! After applying this product use one of these three methods: spray away while mopping with another bucket underneath as well; squeegee off excess liquid by placing each side under running cold tap water until they are completely dry before moving onto their next section (be careful not get too close together); alternatively you can just scrub away at stubborn spills using soap/water mix.
Kitchen surfaces and equipment are cleaned in the same manner. Personal protective gear, such as shoes or mop heads for example needs to be sanitised before use on another surface because they may have been exposed dirtied by previous chores which could carry germs into your home's environment if not properly sterilised first!
The great outdoors is a place where you can enjoy spending time with friends and family, but it's not always easy to take care of all those greasy grill surfaces. Luckily for homeowners who love hosting outdoor parties or just want their property looking its best whenever possible there are plenty of ways that cleaning grills don't have be such hard work! From using cleaners specifically made for this purpose like degreasers which will get rid of any stickiness left behind by previous uses without harming surface material too much; wiping down metal parts after use so they stay shiny longer.
Our full range of your favourite branded cleaning supplies for your home can be found at our Home Cleaning category
If you are looking for cleaning supplies for trade & businesses, please visit us at our Trade Cleaning category
Register for a business account to start saving 6% today! This combined with our Buy More, Save More initiative, where the unit price reduces based upon the volume bought, you can save a whopping 16%!
Got a Cleaning Challenge? Our Guru Has the Solution.
Our Product Guru helps you find the cleaning solution you require for even the toughest cleaning challenges.
We have an extensive range of products and cleaning chemicals which means that we've always got the right one for your task in hand. Whether for commercial use or household cleaning, from limescale to wine stains, blocked drains, pungent odours or body fluid spills to name just a few, our Product Guru will identify the items you need.
Find by Brand
Search Here
Product Guru
Find a Solution