Kitchen Cleaning Products
Check Out Our Great Range of Kitchen Cleaning Products, to Keep Your Home & Safe!
Check out our range of kitchen cleaning products for your home, all your favourite bands at great prices. Some of our more popular kitchen cleaning product sub-categories are Dishwashing, Oven Cleaning, Disinfectants & Sanitisers and Degreasing.
Register for a business account to start saving 6% today! This combined with our Buy More, Save More initiative, where the unit price reduces based upon the volume bought, you can save a whopping 16%!
Shop our range of house cleaning products and start saving!
---
Kitchen Cleaning Products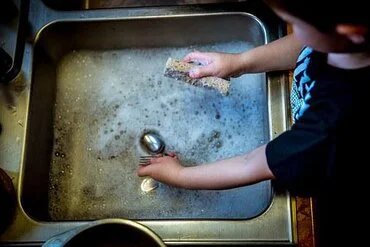 Buying your kitchen cleaning products at The Cleaning Collective could not be easier and this coupled with our quick delivery service, provides reassure to our customers. We have taken care to balance cost with quality, ensuring we cater for your favourite high street bands, including but not limited to, Astonish, Cillit Bang, Dettol, Elbow Grease, Fairy, Finish, Flash, Wrapmaster.
View our full range of home cleaning supplies?
Looking for cleaning supplies for trade or business? Head to our trade cleaning category.
Got a Cleaning Challenge? Our Guru Has the Solution.
Our Product Guru helps you find the cleaning solution you require for even the toughest cleaning challenges.
We have an extensive range of products and cleaning chemicals which means that we've always got the right one for your task in hand. Whether for commercial use or household cleaning, from limescale to wine stains, blocked drains, pungent odours or body fluid spills to name just a few, our Product Guru will identify the items you need.
Find by Brand
Search Here
Product Guru
Find a Solution

Papernet 2 Ply Toilet Rolls offer excellent quality and amazing value.
£10.75 for a case of 40 rolls.