The Business Cleaning Academy
The one-stop guide commercial cleaning and hygiene advice, helping you and your business to create hygienic, safe and effective spaces for staff and customers alike.
The Business Cleaning Academy contains a range of resources for businesses, whether a large corporation or sole-trader, including tips to select products that limit your environmental impact, best practice for carrying out cleaning operations and advice on how you could save £££s when purchasing consumables.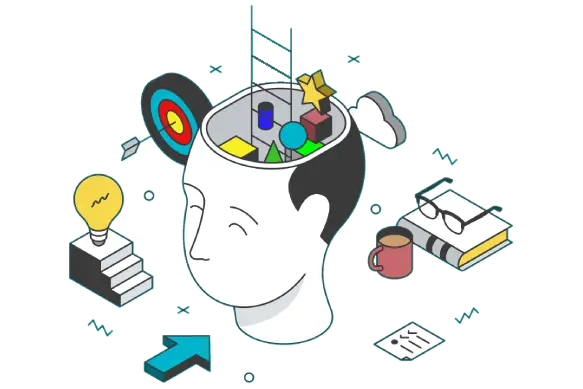 Choosing the Right Products
Selecting the best cleaning products for your business can be a challenging task for several reasons. First and foremost, the market is inundated with a vast array of cleaning products, each claiming to be the most effective, eco-friendly, or cost-efficient option. This abundance of choices can overwhelm business owners and facility managers, making it difficult to discern which products truly align with their specific cleaning needs and budget constraints.
Different businesses have varying requirements when it comes to cleaning products. A restaurant, for instance, might need specialised degreasers and sanitizers, while an office environment may prioritise mild, non-toxic cleaners. Understanding your business's unique cleaning needs is crucial, but it can also complicate the decision-making process.
The evolving landscape of environmental regulations and sustainability concerns further complicates the selection process. Business owners often grapple with the need to balance effective cleaning with environmentally responsible choices, which can be a delicate juggling act.
Lastly, there's the issue of product performance and consistency. A cleaning product that works well initially may not maintain its effectiveness over time, which can lead to recurring costs and quality control challenges.
In light of these complexities, choosing the best cleaning products for your business demands careful research, a clear understanding of your cleaning needs, and a willingness to adapt to changing industry standards. It's a decision that can significantly impact not only the cleanliness of your workspace but also your budget and environmental footprint.

Selecting a Range of Products for Your Business
Considering the idea of launching your own cleaning company? Unsure where to begin?
The good news is that it's a relatively uncomplicated process, with minimal requirements. All you really need is your own mode of transportation and a set of essential cleaning supplies, and you'll be well on your way.
We've put together a comprehensive list of the cleaning supplies that should be part of your toolkit, encompassing items for routine cleaning as well as specialised products to handle the most challenging cleaning tasks. This ensures that your cleaning business thrives and prospers.
Multi-purpose cleaners:
These versatile wonders are your go-to for tackling grime in kitchens, bathrooms, and beyond. They're perfect for daily cleaning tasks and work effectively on most hard surfaces.
Disinfectants:
In today's hygiene-conscious world, more than just cleaning is needed – you must also kill harmful germs. A potent disinfectant provides peace of mind for both you and your clients. A two-step process, involving cleaning with a detergent or multi-purpose spray followed by disinfection, ensures thorough cleanliness.
Limescale remover:
Dealing with limescale build-up, especially in hard water areas, is a common challenge. Impressing your clients can be as simple as restoring shine to taps, tiles, and showerheads with the right limescale remover.
Degreaser:
An excellent solution for effortlessly cleaning a bustling family kitchen, an effective degreaser swiftly eliminates accumulated food and cooking oil residues that may persist on cabinets, tiles, backsplashes, and various surfaces.
Cloths:
We suggest investing in high-quality microfiber cloths that can serve multiple cleaning needs, and it's wise to keep an ample supply on hand. Employ distinct coloured cloths for specific tasks, such as one designated for the kitchen, another for the bathroom, and a separate one for the toilet. Ensure that these cloths are thoroughly cleaned and sanitized after each use.
Sponges/scourers:
For more challenging cleaning jobs, a textured sponge can assist in removing stubborn dirt like baked-on food residue or long-ignored stains.
Squeegee:
A hidden gem in your cleaning arsenal, ideal for tackling bathroom and window cleaning tasks. Eliminate those pesky streaks caused by excess surface water and streamline your efforts in drying windows, shower screens, and tiles with the help of a squeegee.
Mop and bucket:
Opting for a reliable mop and bucket will not only save you time and energy but also help protect your back over the long haul. Similar to cleaning cloths, it's wise to have an ample supply of mop heads on hand to ensure that every part of the house remains as immaculate as can be.
Scents/air fresheners:
Ensure that you establish a memorable initial experience when your customers return to their homes, imbuing the space with a delightful fragrance.
Mould removers:
Maintaining a mould-free home can be tough. Busy lives and shared bathrooms create ideal conditions for mould growth. Help your clients combat this issue with a potent mould & mildew remover containing bleach to erase black tile stains.
Oven cleaner:
If you provide a thorough oven cleaning service, you may discover a surge in your customer base. Equipping yourself with an effective oven cleaning solution can transform this once-daunting chore into an opportunity to truly amaze your clients!
Carpet cleaner:
Carpets can swiftly accumulate dirt and become unhygienic, particularly for households with children and pets. If you provide services such as routine maintenance cleaning, stain removal, and deep cleaning, you're offering a valuable solution that many will be keen to utilise.
How to Save Money on Your Cleaning Products:
When it comes to saving money on your cleaning products:
Buy in Bulk:
After identifying trusted products, consider buying them in bulk. This not only saves money but also reduces time spent on frequent orders or shopping trips.
Concentrated Cleaning:
Opt for concentrated cleaning products to save money and reduce environmental impact. They require less water in manufacturing, less packaging, and less fuel for transportation. You'll get your cleaning products in super concentrated format, available in either 1L or 5L bottles. Simply add the correct dose to your own spray bottles, top up with water and you're ready to go!
Open an Account:
At The Cleaning Collective you can further add to your savings by creating a business account. Depending on order amount, you can add up to another 8% savings on top of any existing bulk discounts! You can also take advantage of next day delivery, no minimum order, an easy-to-use ordering system with the option to schedule orders in the future. Never run out of your essential cleaning products ever again!
Starting a cleaning business is a promising endeavour, and the right cleaning products are your gateway to success. By following these tips, you can ensure your business thrives while providing top-notch cleaning services.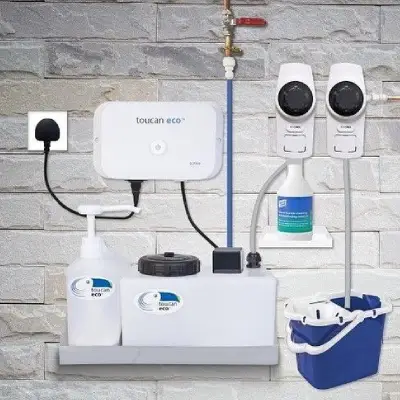 The Business Benefits of the Toucan Eco
In today's fast-paced and environmentally conscious world, businesses are increasingly seeking sustainable and cost-effective solutions that align with their values while maintaining a clean and hygienic environment. Enter Toucan Eco Active and Toucan Eco Active Plus – game-changing cleaning systems that offer a range of business and commercial benefits
The core of Toucan Eco products lie in their revolutionary technology, which transforms tap water, table salt, and electricity into a highly effective cleaning solution without harmful toxins or chemicals. This means you can confidently clean any space, knowing that you're not compromising your health or the environment.

Key Benefits:
Sustainable Cleaning: Toucan Eco Active and Toucan Eco Active Plus harness the power of electrolysis to transform tap water, salt, and electricity into highly effective, eco-friendly cleaning solutions. By producing the cleaning solution on-site, businesses can significantly reduce their reliance on chemical-based cleaners and single-use plastic bottles, thus minimizing environmental impact and plastic waste. This commitment to sustainability not only resonates with environmentally conscious customers but also aligns with corporate social responsibility goals, enhancing your brand's reputation.
Cost Savings: Implementing the Toucan Eco Active can yield substantial cost savings for businesses. By producing the cleaning solution in-house, there is no need to purchase commercial cleaning products repeatedly. This eliminates ongoing expenses, resulting in significant long-term savings.
Improved Efficiency: The on-site production capability of Toucan Eco Active and Toucan Eco Active Plus ensures an uninterrupted supply of cleaning solution. This eliminates the need for frequent restocking, streamlining inventory management processes and reducing administrative tasks. With a consistent supply readily available, cleaning staff can operate more efficiently, focusing on their primary responsibilities instead of monitoring cleaning product levels or waiting for deliveries. This enhanced efficiency translates to time savings, increased productivity, and a more streamlined operation.
Versatility and Performance: These products offer exceptional cleaning performance across various surfaces and environments. From floors and countertops to appliances and even food, these eco-friendly solutions are suitable for a wide range of applications. Their antibacterial properties ensure a hygienic environment, making them ideal for businesses in industries such as healthcare, hospitality, and food service. Moreover, the hypoallergenic and chemical-free nature of these products makes them safe for use in settings where the well-being of employees and customers with respiratory issues or sensitive skin is a priority.
Toucan Eco products are not only eco-friendly alternatives to traditional cleaning products but also smart business investments. By embracing these innovative cleaning systems, businesses can reduce their environmental footprint, achieve significant cost savings, enhance operational efficiency, and deliver a clean and safe environment for employees and customers alike.
Looking for a more handheld and flexible cleaning device? Perfect for smaller businesses, Toucan Eco offers a portable and efficient cleaning solution - the Toucan Eco eSpray. With its compact size and powerful cleaning capabilities, this handheld spray bottle is ideal for retail shops, cafes, and offices that require targeted cleaning. Just like its larger counterparts, it promotes sustainability and cost savings by producing the cleaning solution on-demand. Join the eco-friendly cleaning revolution today!
Make Savings on Your Consumables
Cleaning and hygiene consumables are those products that you purchase for business that are used recurrently with a limited lifespan, the extreme being single use products. This includes items such as hand towels and disposable cloths.
As these products get used up, more are purchased on a reoccurring basis. Due to the cyclical purchase pattern associated with consumables, the cost of these items grows over the year and can lead to a sizable expenditure for your business. Following the COVID-19 pandemic the cost of goods has increased with record levels of inflation seen across the world, yet your cleaning and hygiene consumables provide the perfect opportunity for making savings and we've got the perfect solution for you: pallet offers.
What are The Cleaning Collective's Pallet Offers?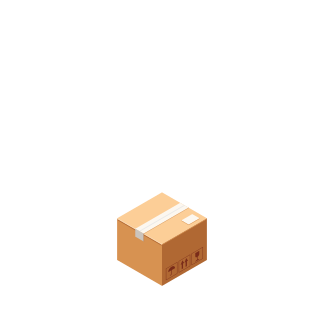 Single Case
Price: £13.92
Price Per Unit: £13.92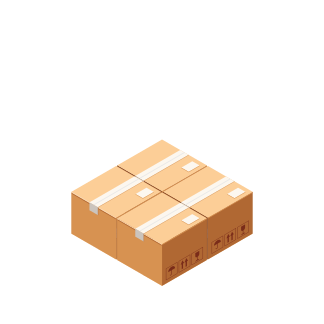 Price-Break Price (5 Packs)
Price: £63.95
Price Per Unit: £12.79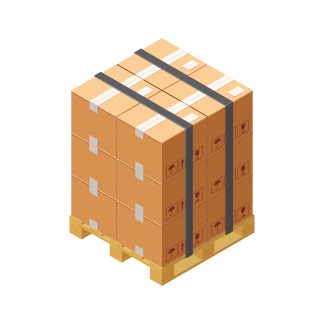 Pallet Offer (60 Packs)
Price: £602.96
Price Per Pack: £10.05
Saves 27% on the single pack price and 21% on the price break price.
The example product used for the above prices is Papernet 2-Ply Toilet Rolls, available as either single packs or a full pallet.
Given the huge savings available, purchasing a greater quantity less frequently is a simple adjustment to your purchasing routine that will help lower your business expenditure. There's even a positive environmental impact too, as fewer delivers means less fuel burnt by drivers travelling to the delivery destination.
Please note, pallet offers are only available for delivery to business addresses and cannot be shipped to residential buildings.
How Can The Cleaning Collective Offer Such Great Prices?
When a customer purchases a full pallet, the processing undertaken at The Cleaning Collective is drastically reduced.
Normally when a pallet is delivered to The Cleaning Collective warehouse, the goods are checked in, the pallet is dismantled into single boxes and those boxes are organised onto shelves by product code. When the product then sells, it is picked from the shelves, repackaged along with any other items and then shipped to the end customer. We also keep a stock of how many individual items we have.
When a customer purchases a full pallet there is no unpacking or repacking required. The cost saving of removing this process, alongside the favourable rates of shipping in bulk, is then passed to the customer to ensure that the best available price is on offer.
Pallet offers are available for selected items and are available by navigating to Trade Cleaning > Pallet Offers on our menu. When purchasing a full pallet, you are getting the best price available on The Cleaning Collective for the selected product, making huge savings on the single unit price as shown below:
Environmental Considerations for Your Business
Environmental sustainability can be defined at the conservation of natural resources and protecting global ecosystems to support health and wellbeing. When decisions are made that impact the environment, consequences are not felt immediately so today's needs must be met without compromising the ability for future generations to meet their needs.
Although we cannot undo all the damage that has already been done, taking action now can help protect our planet for future generations. An example of this happened in 1985, whereby every country in the world phased out ozone-depleting substances. Thanks to the adoption of this policy the hole in the ozone layer is expected to close by 2060 and it is estimated that two million people a saved from skin cancer each year.
By taking a more environmental outlook when you do business, you can benefit both the planet and your company. Notably, customers prefer environmentally aware organisations, you can create a healthier workplace for employees by creating pollutant-free workplaces and you can even save on costs.

Limiting the Impact of Cleaning Products on the Environment
The impact that your cleaning and hygiene supplies may have on the environment are not limited to a single cause, and often a multitude of factors come into play. This ranges from the chemicals you choose to use, to how often you order your products.
The options available to businesses can be confusing, and it's easy to end up going round in circles searching for tips on Google as to how best manage your approach to protecting the environment. We've compiled our top tips below to help you get on the path to a greener approach to cleaning!
Re-use plastic containers
When we think of cleaning, the first thing that comes to mind are trigger spray bottles. Instead of repeat-buying bottles of cleaning fluid, purchase a product that comes in concentrated form and refill the bottle on premisis. For example, a 1L bottle of Evans EC9 Super Concentrate Disinfectant & Descaler makes up to 100 spray bottles of solution when diluted. By refilling a single spray bottle you've saved 99 plastic spray bottles from going to waste!
Choose products that are kind to the environment
Once we've cleaned, the residues from our cleaning products have to go somewhere. When we flush the remaining cleaning solution down the drain, however, the product can still end up in our waterways via both treated and untreated sewage. This introduces the polution to our waterways whereby ingredients can make there way into the food chain. As well as via drains, run off from surfaces also pose the risk of cleaning products heading straight into the ground and also finding their way directly into waterways.
Reduce paper wastage
If you print lots of documents, store these electronically and serve invoices via email. If you use paper as part of you cleaning routine, switch to a recycled product, such as Honest 2-Ply Natural Centrefeed or Sapphire 2-Ply Mini Jumbo Recycled Toilet Rolls. This limits your impacts on forests by reducing deforestation and lessens wastage that pollutes the environment.
Other Ways to Improve Your Environmental Sustainability
It's not just choosing the best products for protecting the planet that will improve the environmental sustainability of your business. By changing how you operate can have a massive impact too.
Changing your purchasing patterns for your cleaning and hygiene supplies can reduce the miles traveled to deliver your items, meaning that less fuel was used to get your items to you (although electric vehicles are becoming more popular, lorries and vans are still primarily burning fossil fuels.)
Below are some further ideas that can help transform even the most polluting workplace into a green, healthy organisation:
Turn off equipment – most electricity in the UK is produced by burning fossil fuels (primarily natural gas) – turning off computers, printers and lighting when not in use will reduce your carbon footprint and save you money.
Use LED lighting – although the initial price is more than a standard bulb, the energy used is considerably less. By using LED you can save as much as £155 per bulb!
Be aware of water usage – this is as simple as tightening taps enough to prevent any dripping. This reduces your carbon footprint and energy is used to filter and pump water to your premises, whilst also saving you money as less water is used.
An environmentally sustainable business will help improve the public perception of your organisation and can help reduce costs, all whilst working towards the create a greener, safer planet for all of us now and in the future.
Our Packaging Pledge
At The Cleaning Collective we take care when packaging your parcels. Not just with how they're packaged, but what they're packaged with. We're always looking for ways to improve our packaging approach in regards to the environment, always searching for the latest innovations that limit plastic use, whilst keep your purchase safe on it's journey.
All packaging material that we purchase is free from plastic. Our cardboard boxes are purchased from Kite Packaging, a company that is both Carbon Neutral Britain Certified and also ISO 14001:2015 Registered with Environmental Management Accreditation. We also use paper tape, with a state-of-the-art adhesive machine, to seal boxes instead of using sticky-back plastic tape.
If you do find plastic packaging in any parcel from us, please don't be alarmed. We always try to reuse any plastic packaging that we receive from third parties where possible - there's no benefit to sending this to landfill when it has already been manufactured. We'd encourage you to do the same - if you ever receive any plastic packaging yourself, put it to one side and use it when sending one of your own parcels.

Keeping Floors Clean: Best Practice & Compliance
One of the first impressions a customer or employee receives when entering a building is the condition and state of the floor. A well-maintained floor is clean, attractive and safe, creating a favourable impression that reflects well on the company and building owners.
Floors also remain a key hazard area for businesses, with slips and trips being the most common cause of injury at work. Most slips occur when floors become contaminated or wet and many trips result from poor housekeeping. Of all reported injuries of members of the public in workplaces, such as in restaurants, shops and hospitals, 50% resulted from slips and trips. Employers are responsible for controlling risks from slips and trips, including undertaking workplace risk assessments. The cleaning function of a business can help with controlling these risks, whilst all staff can play a role in creating a safer workplace by adopting a "see it, sort it" attitude. This includes:
Prevent floors from getting wet or contaminated in the first place. Where dispensers are in place, use a drip tray to prevent spills.
Encourage good housekeeping practices with all staff. All workplaces should be kept clear with no trailing cables and dispose of all packaging material and wrappings carefully – don't leave these lying around on the floor. Magazines and newspaper inserts can be slippery – monitor, remove and recycle promptly if these fall onto the floor.
Always use wet floor signs.
Procedures should be introduced for both response and routine cleaning:
Responsive Cleaning
If a spillage occurs, clean this up quickly. Sanitaire Clean Up Powder can absorb up to 200 times its own weight and is suitable for cleaning-up body fluids such as vomit, urine and blood, as well as food and drink spills. Once the spill is absorbed into the powder it can be easily scooped and disposed of.
Routine Cleaning
Suitable and timely cleaning regimes play a pivotal role in controlling contamination on flooring that is often brought inside on footwear. Depending on your floor type, there are a number of steps required to keep your floor maintained and in good order.
Floors that require polishing should have a periodic "strip and polish". This is a restorative procedure that removes all layers of polish and dirt from the floor using a special cleaning chemical to take the surface back to its original state, then applies fresh coats of polish to restore and revive the floor.
Once restored, the floor should be given a regular "scrub and recoat" to maintain the finish. Scrub the floor and then apply polish to keep the floor looking brilliant between each "strip and polish". You can normally tell when a "strip and polish" is required as either a "scrub and recoat" will no longer bring your floor back to its shiny best, or the floor is shiny but looks dirty as contaminants have been trapped between each layer of polish.
Floor polish may contain properties that makes flooring more slip resistance, therefore improving grip when people walk across the surface.
Finally, a floor maintainer is used for regular cleaning to remove dirt and grime, keeping it both safe by limiting slip potential from contaminants and also looking great.
An example is given below on how a floor cleaning schedule might look:
Strip and polish: Yearly
Scrub and recoat: Monthly
Maintenance clean: Daily
Spills: Clean-as-you-go
Please note, this schedule is an example and is not suitable for all businesses. Frequencies are determined by the type of flooring, amount of footfall, the type of contaminants (such as sand from a beach or mud in the countryside) and also the required finish (a high shine will require more frequent polishing). This should be determined on a business-by-business basis in line with risk assessments.
For more information on slips and trips in the workplace visit the HSE website by clicking here and to find products to help maintain your floors please visit our website.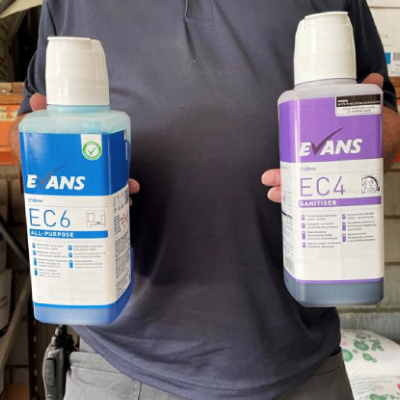 Evans EC Super Concentrates: Cost-Saving Solutions For Businesses
Introducing the Evans EC Range Super Concentrates, the ultimate solution for small to medium-sized businesses seeking to save money on consumables without compromising on quality. These concentrated cleaning products offer numerous benefits for price-conscious businesses.
The EC Range includes a variety of specialised cleaning solutions, each with its unique advantages. The EC2 Heavy Duty Cleaner & Degreaser is formulated to tackle tough grease and dirt, while the EC4 Multi-Surface Sanitiser, Cleaner, and Disinfectant effectively combat bacteria, viruses, and fungi. The EC6 All Purpose Interior Hard Surface Cleaner provides versatile cleaning for various surfaces, and the EC7 Heavy Duty Hard Surface Cleaner is designed for stubborn stains and marks. The EC8 Air Freshener and Fabric Deodoriser eliminate odours, while the EC9 Washroom Bactericidal Cleaner and Descaler maintain hygiene in washroom facilities.
Additionally, each product comes in a refillable trigger spray bottle, allowing you to easily replenish it from a 1L or 5L container. This ensures long-lasting and sustainable use, minimizing the need for frequent repurchases.

Cleaning Office Electronics
Office electronics are often worrisome items for cleaners to deal with. Should I touch the keyboard? Will I damage the screen if I use my cleaning product on it? These are the kinds of questions cleaners might ask themselves, and rightly so. Some of these items can cost thousands so causing damage to them is the last thing you want to happen, yet it's important that as much attention is paid to cleaning these as other areas of a business. A keyboard and mouse also represents a high risk area for spreading germs and these are touchpoints that are used regaularly through the day, with the risk being even greater if hotdesking (the sharing of desks and computers amongst staff) occurs.
We've identified the key items that require regular cleaning and provided a guide to cleaning each of these below, so that you can be confident you're using the right method every time.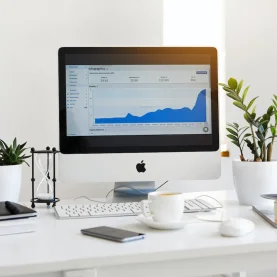 How to Clean a Laptop Screen/How to Clean Monitor Screen
Screens are common areas for firt, dust and fingerprints to build up. Although they don't do any long-term damage to your device, they are unsightly and can be distracted when working. However, cleaning a screen isn't as straight forward as you might think as there are a few do's and don'ts!
Before cleaning any electronic device, always make sure that you turn off the item at the mains - you can even unplug it just to be certain and prevent someone else switching on on whilst you're cleaning!
Cleaning Steps
Take a microfibre cloth, making sure that it's clean and has no grit on the fibres. We'd recommend having a single cloth for cleaning your screen.
Never use a paper towel as these are abrasive and could scratch your screen. Likewise, don't use an old t-shirt/rag you use for household cleaning as they may harbour a spec of grit that may scratch the screen. Microfibre cloths are ideal as at a microscopic level are extremely soft and they are known for attracting dust and absorbing oils.
Wipe the screen with the cloth. Use only light pressure and wipe with a sweeping motion from left to right or top to bottom. Avoid circular motions and refrain from buffing ina single area - you might end up buffing in a costly repair!
For any marks than remain, lightly dampen your cloth with distilled water and lightly wipe again. This should remove any remaining marks. If you still need a little extra 'oopmh', mix 50% water and 50% white vinegar and try again.
Do not apply cleaning chemicals to your screen, especially corrosive items. These can strip reflective coatings of screens or cause clouding.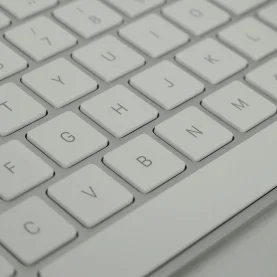 How to Clean a Keyboard
Despite being an item that we touch and interact with on a daily basis, a keyboard has been shown to have more germs than a toilet seat. On average, the number of germs per square inch on a keyboard totals 3,295, highlighting the importance of cleaning computer peripherals.
If you have an external keyboard unplug this from your computer before cleaning, else if your keyboard is integrated within your laptop turn off the device and remove the battery for peace of mind.
Cleaning Steps
You should start by brushing out the muck on your keyboard. You can use a specialised keyboard brush to do this, or alternatively use a toothbrush to scrub the space between the keys.
Turn you keyboard or laptop upside down and shake lighlty to dislodge any crumbs or dust between the keys. Canned air is also an effective method of blowing out the dust - place the plastic nozzle between the keys and blast away!
If possible complete this step outside, or else the crumbs and dust will end up straight on your desk!
For any crumbs or dust that you couldn't dislodge, take a sticky note, fold it in half, and with the sticky edge on the outside run it in the crevice between keys. Any remaining dirt will stick to sticky notes sticky edge, ready for disposal.
Finally, using an antibacterial wipe wipe down the surface of the keyboard, including all of the keys and there edges, the top surrounding area of the keyboard and also the keyboards underside.
It must be noted that if your keyboard is extremely dirty, these steps may not be enough. If this is the case, each key can be removed from the keyboard and soaked in an anti-bacterial solution. Don't forget to take a photo of the keyboard before completing this step so that you know where to replace the keys!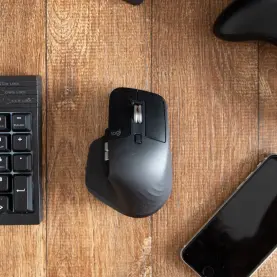 How to Clean a Computer Mouse
Other than your keyboard, a computer mouse is one of the most interacted pieces of equipment on your desk. Therefore, it's another area that is likely to harbour a multitude of germs, making it extremely important to keep your mouse clean.
Cleaning Steps
Make sure your mouse is either turned off if wireless, or unplugged if wired.
Take an antibacterial cleaning wipe (such as Clinell Universal Wipes, and wipe the full outer surface of the mouse.
Do not use a spray cleaner on the mouse, as it is possible that the liquid can drip inside the mouse and in the worst case, cause damage that stops it from working.
Using a wipe again, pay special attention to the mouse wheel. Clean the visible area, rotate the wheel and clean again until the full wheel has been cleaned.
Use a toothpick to clean out the grooves in the mouse.
Give the mouse a final wipe to remove any remaining dirt that has been left behind.
Looking for a full guide on how to clean a commercial office? We've got you covered - click the link below to view all of our tips, tricks and guides!
As a promise by the nation to ensure that those who have served, and their families, are not disadvantaged in civilian life, the Armed Forces Covenant seeks to ensure fair treatment for those who have defended the realm and affords special consideration to those who have given the most, including the bereaved and injured.
The parent company of The Cleaning Collective, Spectrum Cleaning Solutions Ltd, made a voluntary pledge on behalf of all of its subsidiaries to support the Armed Forces Community, signing the Covenant on 15th July 2022.
What is the Armed Forces Covenant?
Those who have served, and who continue to serve, proudly defend our nation, demonstrating commitment, courage and honour, and the pledge focuses on ensuring members of the community and their families are afforded the same access to public and commercial products and services as other citizens. This includes launching a new career, accessing healthcare, and securing a home.
Businesses, community organisations, charities and fellow citizens have made a commitment to actively support The Armed Forces Covenant, ensuring that serving personnel, veterans, and their families get the support and respect they deserve. Signatories have pledged to recognise the value of their military contribution, and the vital role families play in supporting the operational effectiveness of the Armed Forces.
If you are a community organisation or a business, find out how to show your support by clicking here.
To view the signed Spectrum Cleaning Solutions Ltd pledge, please click the link below:
View Our Pledge