Dish Wash
Check Out Our Great Kitchen & Pot Washing Products, to Keep Your Home Clean & Safe!
Pot Washing
---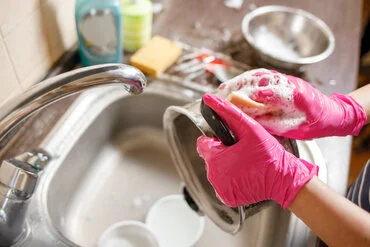 Shop our range of kitchen pot washing cleaning products and start saving!
What to know
Dish washing is usually done using an implement for the washer to wield, unless you have access to a dishwasher. Commonly used implements include cloths or even steel wool and rubber gloves if avoided touching hot water/dishwashing liquids with your hands because of sensitivity issues; those who do not want their clothes wet from spilled liquid also use sponges as well- it's up too each individual person!
Sanitisation
In order to prevent the spread of microorganisms, it is necessary that dishes are sanitised when used by many people. Sanitisation prevents diseases and ensures cleanliness for each person whether that be at home or in a restaurant or any other social setting where food consumption occurs.
Dishwashers are a great way to quickly and effectively sanitise dishes. They use hot water or/and chemical solutions, which both have around 100 parts per million (ppm) chlorine in them; this is enough for effective cleanliness against bacteria like E coli and provides safe levels of sanitation! The high temperatures inside dishwasher also kill all germs that might be present on your plates when you're done cooking without having any negative effects whatsoever, unlike boiling water where some nutrients can become lost from food items due their rugged environment.
---
Our full range of your favourite branded cleaning supplies for your home can be found at our Home Cleaning category
If you are looking for cleaning supplies for trade & businesses, please visit us at our Trade Cleaning category
Register for a business account to start saving 6% today! This combined with our Buy More, Save More initiative, where the unit price reduces based upon the volume bought, you can save a whopping 16%!
Got a Cleaning Challenge? Our Guru Has the Solution.
Our Product Guru helps you find the cleaning solution you require for even the toughest cleaning challenges.
We have an extensive range of products and cleaning chemicals which means that we've always got the right one for your task in hand. Whether for commercial use or household cleaning, from limescale to wine stains, blocked drains, pungent odours or body fluid spills to name just a few, our Product Guru will identify the items you need.
Find by Brand
Search Here
Product Guru
Find a Solution