Laundry Supplies
Check Out Our Commercial Laundry Supplies for All Your Trade and Business Needs!
Welcome to our selection of top-quality Commercial Laundry Supplies, where cleanliness meets efficiency for every business need!
Laundry Supplies
---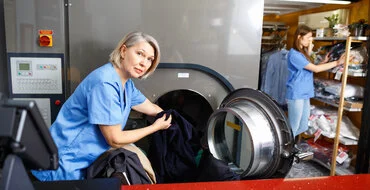 Ensure pristine laundry outcomes with our Commercial Laundry Supplies:
Let's delve deeper into our Commercial Laundry Supplies sub-categories.
Laundry Detergent Supplies: Potent Formulas for Cleanliness
Our range of laundry detergent supplies ensures garments are not only cleaned but revitalised too. The potency of our formulas ensures each wash penetrates deep into fibres, removing dirt, sweat, and stubborn stains, ensuring your clothes look as vibrant and fresh as the day you bought them. Suitable for both hand and machine wash, our selection caters to all types of laundry needs, from daily washing to more intensive cleaning sessions.
Laundry Softener Supplies: Ensuring Soft Touch and Freshness
The unique blends in our softeners give garments that soft-to-touch feel, making them comfortable to wear and extending their lifespan. More than just softening, they leave behind a subtle, pleasing fragrance, giving you a refreshing experience every time you wear your clothes. They also reduce fabric wear during washing, resulting in less fuzzing and pilling.
Laundry Destaining Supplies: Targeting Persistent Stains
Some stains seem almost impossible to remove. But with our range of destaining supplies, those persistent marks from coffee, wine, or ink become a worry of the past. These products are crafted to work on specific stains, ensuring fabrics aren't harmed while the stain is thoroughly removed.
Laundry Booster Supplies: Amplifying Detergent Efficacy
While regular detergents do a good job, sometimes your laundry needs a bit of a boost. Our boosters work alongside your detergent, amplifying its effectiveness. Whether it's brightening whites, deep cleaning sportswear, or revitalising old linens, our boosters are the secret weapon in your laundry arsenal.
Laundry Emulsifier Supplies: Combatting Oily Stains
Grease and oil-based stains can be a nightmare. Our range of emulsifiers is formulated to break down these stubborn stains at a molecular level. By doing this, they not only remove the stain but ensure it doesn't resettle elsewhere on the garment.
Commercial Laundry Consumables: Comprehensive Care for Bulk Laundry
Managing laundry in a commercial setting is a different ball game. The volume is large, and the need for efficiency is paramount. Our range of commercial consumables is curated to cater to these specific needs, ensuring high standards of cleanliness, fragrance, and fabric care, even in bulk operations.
You want to know more about your Commercail Laundry Supplies
Let's Contemplate Detergency Versus Bleaching
Detergents will physically remove soiling such as grease, oil, particles and will not remove bleachable stains.
Bleaches will chemically alter bleachable stains such as tea, coffee, chocolate, wine, blood, urine, food stains, fruit juice and turmeric for example by changing the colour of the stain. Bleach will not remove grease, oil or particulate soiling.
We all make judgements on the efficacy of the detergent if it gets rid of the stains we are trying to tackle. But it is not just about the detergents etc, that we use.
The wash conditions need to be right too. There are two main conditions to be aware of, physical and chemical. Let's take them one at a time:
Physical Conditions
Mechanical action & the machine. How many times have you been guilty of overloading to try and save time? However, it is important that you follow the correct loading procedure.
The loading rule of thumb is that you can you get your hand in above the load and squeeze down? If not, it is overloaded.
Dip Levels controls the concentration of washing chemistry and it has a major impact on mechanical action & the costs are for the incoming water and the outgoing effluent.
Reasons for controlling temperature & thermal disinfection to kill bacteria (71 degrees centigrade for 3 minutes or 65 degrees centigrade for 10 minutes) and the effects on soil removal and staining.
Main effects of time & it costs money, productivity and washing quality.
Chemical Conditions
Detergents take part in a process called wetting and the chemical emulsifies the dirt, suspending it into the water and sending it down the drain.
There are general detergents and specific detergents such as biodegradable enzymatic, bleach powders, low temperature, green and sensitive / baby products all providing great choices.
Biodegradable enzyme based detergent is a great choice for commercial laundry products in care home environments particularly. The detergent will remove protein soiling such as blood and food at just 35/45 degrees centigrade, so the cost of each wash is much less, important when the machine is on all day every day.
Destainers when used under the right conditions, bleach can be a very effective stain remover, however, in the wrong conditions it can be very damaging to your clothes, degrading the quality of your garments significantly.
Peroxide based commercial laundry products need to be used in 60/70-degree centigrade wash conditions, lower and you will not remove stains, higher and you are likely to experience significant chemical damage.
Effective bleaching and stain removal should be achieved within a 10-minute time scale.
A much more effective way of bleaching for stain removal is to use a low temperature bleaching agent, especially formulated for this action. It works at just 40 degrees centigrade and therefore costs less in hot water than the more conventional destainers.
Hard water conditions Are Bad News in Laundry Terms, the Water Needs to Be Soft, and It Needs to Have Adequate Pressure to Ensure the Machines Can Be Filled Reasonably Quickly
Fabric Conditioners & provide a soft and fluffy feel to towels and other pile fabrics. They also reduce problems caused by static electricity. We love the smell of our fabric conditioners, and we are sure you will too – it is attractive and long lasting.
Professional, Dependable and Cost-Effective Laundry Dosing Systems
All commercial laundry products should be dosed correctly, and most laundry products suppliers will provide free on loan dosing equipment, ensuring appropriate doses of chemicals go into your machine every time for the best wash quality.
Our laundry dosing systems are suitable for on-premises and industrial laundry across a range of locations including hotels, care homes and hospitals.
Washing soiled linen can pose a problem, however using red water-soluble laundry bags can offer a convenient precaution to isolate, store, transport and clean washable dirty items.
Once the bags are sealed, they can be placed directly into the washing machine, dissolving to release the contents into the wash.
Why Choose The Cleaning Collective?
Premium Quality: We understand the importance of using reliable and superior-quality cleaners supplies. That's why we source our products from trusted brands known for their excellence in the industry.
Wide Selection: No matter what specific cleaning task you have at hand, we have the right supplies to tackle it effectively. Our diverse range of products caters to various cleaning requirements.
Competitive Prices: At The Cleaning Collective, we believe that top-notch cleaning products should be accessible to all. That's why we offer competitive prices without compromising on quality.
Price Break Discounts: Our Buy More, Save More initiative means you will save more on the unit price, the more units you buy.
Business Accounts: Register for a Business Account and additional discounts will be applied to your basket on checkout.
Expert Advice: Unsure about which cleaners supplies suit your needs best? Our team of cleaning experts is here to assist you in making informed decisions to achieve the best results.
Convenience: With our user-friendly online store, shopping for cleaners supplies has never been easier. Browse through our catalogue, add items to your cart, and experience seamless checkout and fast delivery.
Customer Satisfaction: We prioritize customer satisfaction above all else. Your positive experience with our products and services is our ultimate goal.
Cloud MI: Business Account customers enjoy free access to our Cloud MI online portal. This system allows for housing of your Safety Data Sheets, completion of your COSHH Risk Assessment, COSHH Training and financial dashboard to allow you to track your spending/budgets in realtime, and much more.
Product Guru: Our Product Guru helps you find the cleaning solution you require for even the toughest cleaning challenges. Select where you plan to use the product, what you need to use the product on and why you need to use the product to view the solutions available.
Looking for supplies for home: Our full range of your favourite branded cleaning supplies for your home can be found at our Home Cleaning category
Find by Brand
Search Here
Product Guru
Find a Solution