Sponges & Scourers
Check Out Our Scourer Sponge Range, to Keep Your Home Clean & Safe!
Sponges & Scourers
---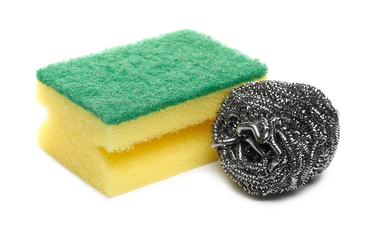 Shop our scourer sponge range and start saving!
Description
The only safe way to clean your non-stick surface is by using a special detergent that does not strip away the coating. You should always wear protective gear, like rubber gloves whilst handling these pads because they can irritate skin and make matters worse if you have a sensitive epidermis or nails!
History
The first scouring pad was invented in 1928 by R. B. Kingman, which used metal mesh to scrub pots clean and leave them shiny! This type of surface cleaning has been popular ever since then- but not for much longer if this trend continues with newer inventions like Joseph Crockford's patent from 1941 that provides us all something less common. A non-rotating plate designed specifically as an abrasive scrubbing agent meant only for household surfaces such as pans or aluminum foil dressings on food items before cooking.
Our full range of your favourite branded cleaning supplies for your home can be found at our Home Cleaning category
If you are looking for cleaning supplies for trade & businesses, please visit us at our Trade Cleaning category
Register for a business account to start saving 6% today! This combined with our Buy More, Save More initiative, where the unit price reduces based upon the volume bought, you can save a whopping 16%!
Got a Cleaning Challenge? Our Guru Has the Solution.
Our Product Guru helps you find the cleaning solution you require for even the toughest cleaning challenges.
We have an extensive range of products and cleaning chemicals which means that we've always got the right one for your task in hand. Whether for commercial use or household cleaning, from limescale to wine stains, blocked drains, pungent odours or body fluid spills to name just a few, our Product Guru will identify the items you need.
Find by Brand
Search Here
Product Guru
Find a Solution