Disinfectant & Sanitiser
Check Out Our Great Kitchen Disinfectant & Sanitiser Products, to Keep Your Home Clean & Safe!
Disinfectant & Sanitiser
---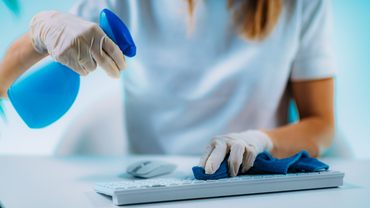 Shop for our range branded and budget disinfectant & sanitiser products.
Germs are everywhere
Germs are a reality of our daily lives, and even though some can be beneficial, many pose the threat of disease. From air to water to soil - not forgetting skin or objects we handle - germs lurk everywhere ready to infect us if proper precautions aren't taken; for example when you touch an object like a tv remote that contains harmful microbes but don't clean your hands before touching other parts of yourself (eyes/nose) or putting food in your mouth. The best course is being aware that there could be risk factors present at any given time so acting with caution is key!
Avoiding getting germs of surfaces and objects
Keeping surfaces and objects clean not only helps make them visually attractive, it also guards against germs that can cause infection. Make sure to do regular disinfecting in addition to washing your hands- the combination offers maximum protection from unwanted visitors!
So, lets look at the difference between cleaning, sanitising, and disinfecting
While it can be easy to assume that disinfecting, cleaning and sanitising are interchangeable terms; they actually refer to important steps in the process of safeguarding against dangerous germs. Knowing which step comes first is key for achieving effective hygiene standards.
Cleaning is an important part of keeping your environment safe and hygienic. It involves the physical removal of dirt, dust, crumbs and germs from surfaces or objects using soap (or detergent) and water - although this may not eliminate all instances of infection-causing bacteria. Regular cleaning helps reduce risk by reducing their numbers so that fewer can spread to you!
Disinfecting goes beyond the everyday clean. By using powerful chemicals such as bleach and alcohol solutions, it's possible to exterminate germs which may go undetected by visual inspection alone. To ensure full effectiveness of these disinfectants, they must be applied for a predetermined amount of time in order to completely eliminate any existing bacteria or viruses that could pose a threat.
Sanitising is an important step to help reduce the spread of germs and viruses, ensuring a safe environment for people. Cleaning involves removing visible dirt from surfaces through mechanical action such as scrubbing or wiping with cleaning agents; disinfection kills remaining microbes on these cleaned surfaces whilst sanitisers are used to lower germ counts down to levels deemed 'safe' by public health standards. Depending on your needs there may be different methods that need applying - mopping floors using mops, chemicals and water; running dishwashers at higher temperatures than usual; or simply using antibacterial wipes over high-contact items like remote controls in living rooms.
Our full range of your favourite branded cleaning supplies for your home can be found at our Home Cleaning category
If you are looking for cleaning supplies for trade & businesses, please visit us at our Trade Cleaning category
Register for a business account to start saving 6% today! This combined with our Buy More, Save More initiative, where the unit price reduces based upon the volume bought, you can save a whopping 16%!
Got a Cleaning Challenge? Our Guru Has the Solution.
Our Product Guru helps you find the cleaning solution you require for even the toughest cleaning challenges.
We have an extensive range of products and cleaning chemicals which means that we've always got the right one for your task in hand. Whether for commercial use or household cleaning, from limescale to wine stains, blocked drains, pungent odours or body fluid spills to name just a few, our Product Guru will identify the items you need.
Find by Brand
Search Here
Product Guru
Find a Solution