15 Ways to Use The Pink Stuff Around the Home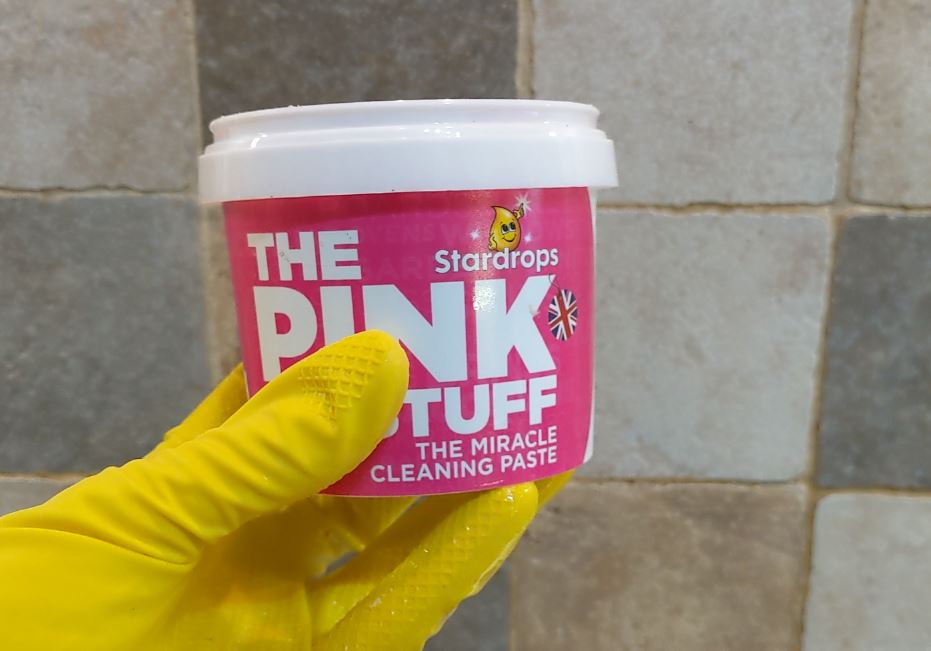 Have you heard about The Pink Stuff? It's fast becoming a cult product, loved by all throughout the cleaning community.
'The Miracle Cleaning Paste' is a slightly-abrasive paste (pink in colour!) which promises to be tough on stains. We thought we'd give it a go and round up some of the best uses.
How do I use The Pink Stuff?
Pop some gloves on to protect your hands and scoop a small amount out with a cloth or sponge, You may be surprised by how thick the paste is but once you rub it in to a surface it soon spreads. Rub in circular motions and then use a clean sponge or cloth to rinse the residue off. Ensure you rinse thoroughly, or you'll be left with the chalky pink residue.
1. Tiles and grout
One of our favourite ways to use The Pink Stuff is to revive tired and grubby tiles. Work it into the grout with a sponge or an old toothbrush and you'll be amazed at how much you can brighten up those old bathroom or kitchen tiles.
2. Scuffs on paintwork
Go carefully with this one! You only need a tiny bit of The Pink Stuff and don't rub too hard or you'll take the paint off. It works wonders on scuffed skirting boards and hallways.
3. Trainers
A surprising use, but one that wowed out testers! White trainers often don't stay white for long. Work some The Pink Stuff into the soles to bring back their original colour. You can also use it sparingly on leather or coated fabric trainers, just don't scrub to hard as you'll remove the coating and colouring.
4. Shine your sink
Your sink quickly suffers from grubby marks and a general built up of grime that takes the shine out of it. A quick scrub with The Pink Stuff on a cloth will bring it back to its best.
5. Get tough on your BBQ
We'll admit, it's not anyone's favourite job but it can be made much easier with a powerful cleaner like The Pink Stuff. Work it all over the grill, any rusty patches and the tools and you'll have your BBQ looking like new again in no time.
6. Revive old pans
Have you got pans that are destined for the scrap pile? Burnt on food and scorch marks on the bottom? Think again… with a bit of The Pink Stuff you get those scorched pans back to their best again. It does take a bit of time but it's totally worth it for the price of new pans!
7. Remove rust
Have you got items with rust build up? Whether it's a metal tap or a garden tool, a small amount of this paste will make light work of rust build ups. Just remember that as The Pink Stuff is abrasive it's not recommended for shiny stainless steel.
8. Freshen up uPVC
Window and door frames looking a little unloved? Maybe you've got paint splashes on them from a recent DIY project? The Pink Stuff will remove paint, stains and general discolouration from your uPVC frames.
9. Radiators and towel tails
Both these items are notorious for getting rusty stains and grubby build ups in the nooks that are hard to get into. Use an old toothbrush to get into the awkward places and see how The Pink Stuff can get your radiator looking nice and clean. Go carefully on painted areas so you don't strip the paint off.
10. Oven and hob
The Pink Stuff can be used over your whole oven, from the grill pan and the shelves to the door and the hob. Use a cloth or sponge scourer to work a good amount over the whole oven, Leave for a few minutes if you need to get some really tough marks off and once rinsed you'll have an oven you can be proud of!
11. Stained worktop
Have you stained your worktop? Strong coloured food such as tomato dishes, curries and tea and coffee can leave stains and murky marks on your kitchen worktops, no matter how many times you clean them. Nothing a little bit of The Pink Stuff won't fix!
12. Get stains off plugholes
Plugholes, whether in your bathroom or kitchen always seem to build up grime and stains. Work a small amount of The Pink Stuff around the plughole with a cloth or an old toothbrush and you'll be surprised how much grime you manage to get out of something that you may feel like you clean regularly!
13. Watermarked glass
If you have glass items that have watermark build ups or have just lost their shine, The Pink Stuff will work wonders to get them back to their best. Items like vases which get murky over time can be brought back to their former selves with a small amount of The Pink Stuff worked in.
14. Metal outdoor furniture
Have you got outdoor furniture which is looking worse for wear? Get to work with The Pink Stuff and remove rust, stains and general dirt and grime that builds up after leaving your furniture outside in the elements.
15. Soap scum
Sick of the build up of soap in your bathtub? It's not always visible but you'll feel a thin coating that takes some hard work to scrub off. Not any more with The Pink Stuff! Rub it in with a cloth in circular motions and you'll see the soap scum coming away quickly. Rinse down and your bathtub will look and feel perfectly clean!
Is The Pink Stuff worth it?
Absolutely! On every surface we tried it on, it worked perfectly. It makes light work of small stains and you can leave it on for 5-10 minutes to really get into tougher stains. Make sure to rinse well as it does leave a powdery residue behind. Our testers were really impressed by how well it brought life back into dull, stained tiles and grout in the kitchen and got white trainers looking white again!
Check out our The Pink Stuff how-to video

Got any other tips for using The Pink Stuff? We're sharing advice on our Instagram and Facebook pages for cleaning everything from your bathroom to your kitchen and all that's in between. Keep an eye out for your favourite products and share your cleaning tips with us to be featured on the page. Tag us and use the #thecleaningcollective

Visit our Facebook page
Visit our Instagram page
The Cleaning Blog
Want to learn more about cleaning? From the latest cleaning and hygiene news to handy how-to guides, why not check out our most popular blog categories.
Find a Solution
Search Here