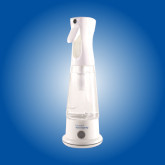 Just 5 Minutes for DIY Sodium Hypochlorite Solutions!
Keeping ourselves and our families as healthy and as safe as possible, is something surely most of us aspire to achieve.
And, with climate change being so high profile currently, many of us, if we haven't already, have started looking towards what we can do to help protect our planet.
So, would you stop using the majority of your current cleaning products if you could?
At the very least you wouldn't have to dispose of the single use plastic bottles your cleaning products come in. According to a study published in the academic journal Science Advances, on average each adult in the UK produces around 99kg of plastic waste per annum and cleaning chemicals contribute hugely to this problem.
A new revolutionary bio-cleaner is now on the market, which means you can make your own endless supply of effective disinfectant and cleaning solution (sodium hypochlorite), in the comfort of your own home, from just tap water and salt!
Making cleaning easier and less complicated, the Toucan Eco makes a natural, mild bleaching agent, which is an alternative to abrasive, chemical cleaning agents. This helps you avoid significant wear and tear to your property and potentially enjoy longer periods of time before having to replace surfaces and units.
What's more, you will make cleaning easier – the Toucan Eco eSpray kills more than 99.99% of germs including E. Coli, MRSA, and Listeria and coronavirus, and has lingering power that keeps on working when left on surfaces.
You can use the sodium hypochlorite solution in your kitchen, bathroom, on glass and metal and it will also deodorise. When the activation base of the Toucan Eco unit has completed its scientific process (you just need to press a button and Toucan will do the rest!) the product is then ready to use. The solution is non-toxic and non-hazardous to people and animals.
The products it won't replace are strong degreaser and descalers.
The chemical compound, made by the technology is trusted by millions across the globe. Protecting aquatic environments, disinfecting drinking water and combating Legionella too, it can even be used to treat wounds, burns and infections in humans and pets.
Perfect for Consumers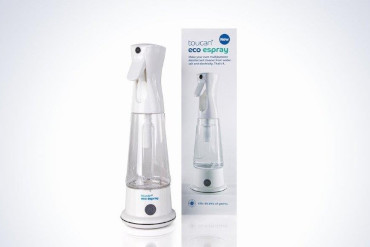 Introducing the Toucan Eco eSpray for safe and eco-friendly disinfecting and cleaning.
With developments in technology, this smaller device is very affordable and only needs the power of your tap water, some salt, a clever bit of science and 5 minutes, to make 350ml of ready to use sodium hypochlorite that will help you wipe out germs without harming the environment.
The Toucan Eco eSpray is an affordable compact system that cleans and kills more than 99.99% of germs in your home, including coronavirus.
The kit comes with a 350ml activation unit and a measuring spoon.
The average household spends over £114.00 on home cleaning products per year so investing in a Toucan Eco eSpray at a cost of £59.99 (inc. VAT), is a saving of nearly 50% in the first year alone.
Toucan Eco Worktop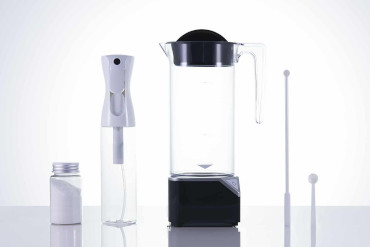 Introducing the Toucan Eco Worktop.
More householders and companies are now making and using their own hypochlorite solution, happy that they are not using toxic, environmentally harmful and costly artificial chemicals to disinfect and clean homes and businesses whilst at the same time, saving on the use of single-use plastic bottles.
Ideal for cleaning in the home as well as schools, guest houses, cafes, and other smaller workplaces, this system makes one litre of the eco-friendly antibac multi-surface cleaner.
The kit includes the one litre activation unit, measuring spoon, mixing rod, spray bottle and some salt to get you started.
Invest in yours today for only £298.00 (inc. VAT).
The Cleaning Blog
Want to learn more about cleaning? From the latest cleaning and hygiene news to handy how-to guides, why not check out our most popular blog categories.
Find a Solution
Search Here