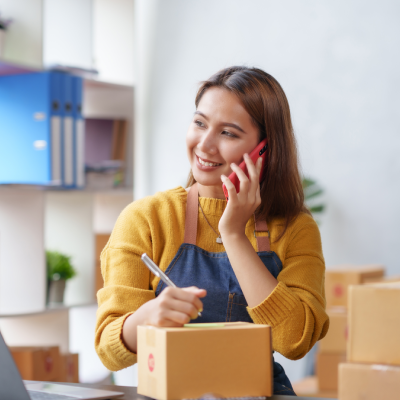 The Ultimate Guide to Starting a Successful Cleaning Business 
If you're looking to establish a cleaning business but feel daunted by the challenges prospective business owners face, you've come to the right place! Our guide will provide the insight you need to make a success of your new venture.
A cleaning company should be one of the easiest businesses to set up. Once you've done your homework you'll realise that you won't need much in the way of start-up capital, and the legal implications aren't as demanding as they might be for some other business ideas.
Reassured? You should be. But that doesn't mean the process won't be completely painless. The success of almost every business is dependent on the hard work of its owner, and that's where we'll start…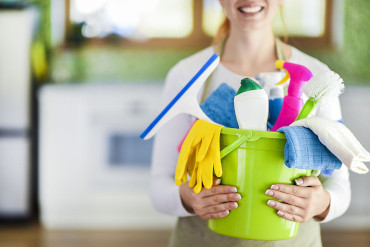 Do the work yourself
Unless you're flush with start-up capital and are planning to hire staff from the outset, you'll probably be doing the cleaning yourself. This will significantly reduce your overheads and you'll also sidestep all the hassle that goes along with employing people.
The obvious downside is that you're going to have to juggle the responsibilities of running a business with the day-to-day graft of cleaning peoples' homes or business properties. Cleaning may not be a particularly skilled vocation but to be a competent cleaner you must have attention to detail and be prepared to work hard. It will also help if you actually enjoy cleaning (apparently some people do!). Your enthusiasm will give you an advantage over all the reluctant cleaners out there, and will encourage your customers to spread the word about the quality of the services you're offering.
Many people launch their entrepreneurial careers while working a day job - are you planning to join their ranks? If so, you'll probably find yourself working harder than you ever have, and it's important that you don't burn yourself out by taking on too many low paying gigs. If you focus on providing the highest quality service you can, you should be able to avoid spreading yourself too thin.
Research the market
This may seem blindingly obvious, but before you take any steps to launch your fledgling business, it's vital that you find out whether there's sufficient demand for your services in the geographical area you'll be operating in. If you're looking to start a cleaning company in Oxford, research the area surrounding Oxford that you'd be willing to travel too. Many businesses have failed simply through lack of demand, often caused by too much competition in a market only able to sustain a limited number of companies offering similar services.
Learn about the competition
One way to determine whether there's going to be adequate demand is to talk to people in the local business community to get a sense of whether your competition are busy. It's often quite easy to figure out if a business is doing well or not - for example, if they have a good reputation but are regularly running special offers that may be a warning sign.
Don't be too shy to snoop! The more information you have about the market and your competition, the better chance you have of hitting the ground running.
Find out as much as you can, asking questions such as:
What services do they offer?
What's their pricing structure?
What platforms are they using to market their business?
Do they have a unique selling proposition (USP)?
Are their customers mainly domestic or commercial?
What's their target market?
Your aim should be to figure out what your customers want and how to satisfy that demand, whilst also considering what your competitors are doing and how you could offer the same service but better.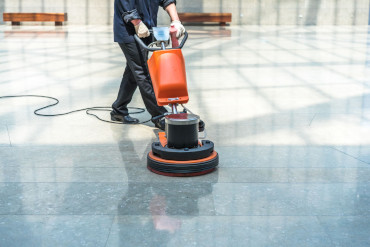 Domestic or commercial?
If you'll be operating in a residential area then it's a no-brainer. Demand for domestic cleaning will be high wherever you find dual-income households - busy families who can afford your services and need help to keep on top of the housework. The elderly are also a demographic worth considering as they often require help around the house.
If you were to go the commercial route you'll typically find yourself cleaning larger spaces, including offices, doctors' surgeries and perhaps even schools. This will usually require specialist equipment, such as professional vacuum cleaners and walk-behind floor scrubber dryers, so you'd need to raise considerable start-up capital. Some business premises or public spaces are so large that it would be impractical for you to clean them alone.
As a newly established business you may be best placed to tackle the smaller commercial premises initially, before going on to market your services to larger companies once you have the resources behind you to make it work.
What's your USP?
If you have something unique to offer to your customers you have a better chance of standing out in a crowded market.
Here are a few suggestions for USPs that a cleaning business might adopt:
Offer extended hours compared to your competitors.
Provide additional services such as dry cleaning or ironing.
Offer your service at a more competitive price point.
Run a loyalty scheme with discounted prices.
The plan here is to find out what your customers want, identify where you competition isn't delivering and then step in with a more attractive value proposition.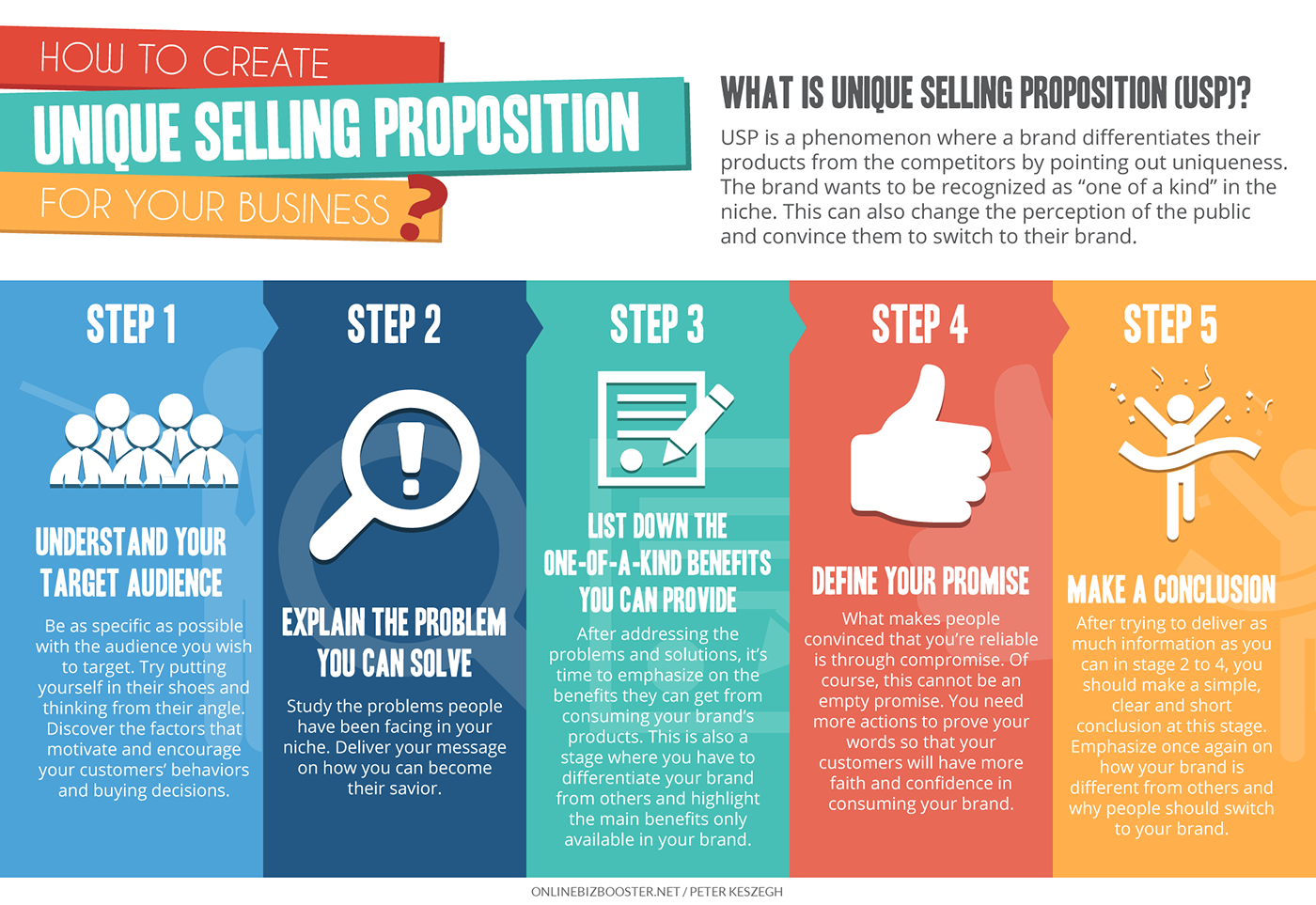 Marketing your new business on a budget
Many new business owners make customers of their family, friends or people within their extended network, so your first step should be to get the word out that you're offering cleaning services. Word of mouth marketing (WOMM) is absolutely key in this context - it's free and it doesn't require much effort, except that to get people talking about your services it's critical that you deliver an excellent service.
Your aim should be to turn your customers into advocates for your business, and to do so you'll need to impress.
Digital marketing
Once you have your customers on-side you should begin to benefit from their word of mouth recommendations. The next step is to make it easy for them to recommend your business online.
The two most must-have online profiles for any domestic cleaning company are Facebook and Google My Business. Create a Facebook business page and share it with your friends - this will allow them to rate your services and to make recommendations on Facebook by referring people to your page. You can also use posts to communicate directly with existing and prospective customers, and to reach an even wider audience you can boost posts or create Facebook Ads. If you do intend to use these paid-for services, limit your budget to avoid pay-per-click (PPC) overspend and be sure to target the appropriate geographical area and customer demographic.
After Facebook the next platform you should set up a profile on is Google My Business (GMB). Google remains the most popular search engine by far and your GMB profile won't only show in search results, but also on the Google Maps platform.
Customers are very unlikely to provide a review without encouragement, so if you're confident they're happy with the services you offer, ask them if they wouldn't mind spending a couple minutes writing some kind words about your company. GMB should be the priority, followed by Facebook, Bing, Yelp and then the rest. The reason GMB is so important is that in addition to the important trust signal, a business with a solid GMB review score will tend to rank higher in search results than its less well reviewed competitor, assuming all other factors are equal.
If you've gone the commercial cleaning route, Facebook and GMB will still prove to be valuable tools, but you should also explore B2B platforms such as LinkedIn.

Do I need a website?
It's still early days and a website may not be an absolute necessity, but as you become more established and are able to pull together the necessary funds, a search optimised website that's hooked up to your Facebook and GMB profiles could add significant value.
Traditional channels still work
They may seem archaic in the digital age, but don't disregard the potential of old school marketing techniques such as leafleting. Leaflets are cheap to print and you can deliver them yourself when you have a spare hour or two. They may have limited impact in a commercial context, but will almost certainly be effective in developing a domestic customer base.
If you can get your leaflet into as many locations as possible, including in shop windows and on notice boards, you'll be able to engage an elderly audience who tend to be less active online.
What's a brand and do I need one?
Many people think a brand is just a logo, but it's much more than that - it encompasses your ethos, values and how you communicate with your customers. For example, you may consider it important to protect the environment and the health of your customers' pets, so how about you make a commitment to use all-natural products? You could adopt this as your USP, and focus on these issues when you produce marketing material.
By considering your values and the things that distinguish your company from its competitors, you should be able to come up with some great ideas for your business name. The most effective business names are often those that communicate something of the core values of the business to prospective customers, helping them understand what the business is all about.
If your budget won't stretch to outsourcing the logo design, just using a simple wordmark may serve you better than using an amateurish logomark. Get your new wordmark or logo printed on t-shirts and perhaps wear trousers in a matching colour - you've just devised a uniform of sorts and your professional appearance will enhance your brand.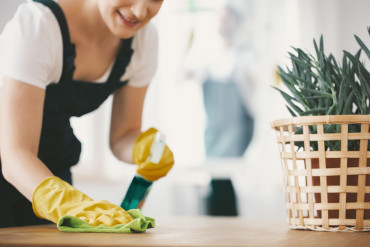 Buy professional cleaning supplies
If you're lucky some of your domestic clients will prefer you use the cleaning products and equipment they supply, but many will expect you to bring your own.
Don't be tempted to stock up at the supermarket while you're on your weekly shop - this will be extremely expensive in the long run and cut into your profit margin. The cheapest and most convenient way to stock up on supplies is to buy from an online cleaning supplies wholesaler, such as The Cleaning Collective.
Essential cleaning products
Kitchen-specific:
Bathroom-specific:
Cleaning equipment you'll need
If you've gone the commercial route you'll probably need all of the above and a few specialist items, such as a cleaning trolley, professional or heavy-duty vacuum cleaner, a steam cleaner and perhaps even a floor scrubber-dryer.
Get organised
It doesn't matter whether you prefer to write things down in a diary or use a calendar app, just make sure that you have a record of everything that's going on - where you're going on which days, any requests clients have made, customer cancellations and whether you need to stock up on cleaning chemicals and consumables.
To run a successful business and ensure the satisfaction of your clients you must be highly organised. Letting people down because you haven't set reminders can result in lost goodwill, and eventually, lost clients.
It's also important that you keep all your receipts and carefully record your expenses and income. Now you're self-employed you'll have to file returns with the tax authorities, so take a little time each week to get your books up-to-date. This is never fun but it can become an onerous task if you put it off until the year end. A simple spreadsheet may suffice, then get yourself a subscription to one of the many web-based accounting tools when you feel you're able to invest.
Don't forget the boring legal stuff
There are a few legal implications to consider when starting a cleaning business.
The most obvious is your self-employed status, something we've already touched on. When establishing your cleaning business you'll have to decide whether to operate as a sole trader or limited company. Each option has benefits and drawbacks, and which one you plump for should depend not only on your current situation, but where you see your business going in the future.
We won't go into too much detail here, except to say that it's much easier to get started as a sole trader and that's the structure that would suit most domestic cleaning companies, certainly at the outset. If you intend to operate a commercial cleaning company pitching for B2B contracts and applying for credit accounts with suppliers, it'd be wise to explore the limited company legal structure.
Insurance is another important consideration. You'll be working at somebody else's property, so it's important that you have the appropriate levels of public liability and indemnity insurance. This will protect your customer, their property and your business.
If you plan to take on staff, you'll need to register as an employer with the tax authorities and ensure that you comply with all relevant employment legislation. Statutory rights, PAYE obligations, employer's liability insurance and pension auto-enrolment are things you'll have to start thinking about. You should also consider the potential risks that your employees face as they carry out their duties, and ensure that you prioritise their health and wellbeing.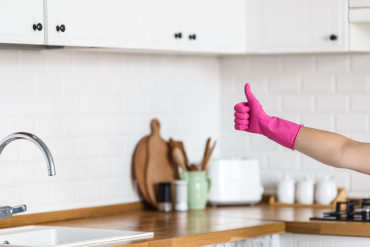 Get cleaning!
There will no doubt be other challenges to face as you begin your journey as a business owner, but this guide should at least have covered the basics.
A cleaning company should be a relatively uncomplicated business to set up and run, with low start-up investment required, giving you the best possible chance of success.
As with most businesses, the key is to focus on quality and customer satisfaction - if you offer a high quality service it will sell itself, and to have your customers advocating on your behalf is perhaps the most effective marketing strategy of all.
Good luck!
Beth 😊
Stay Connected
Want to hear more from The Cleaning Collective? Sign up to our mailing list for the latest offers and news
The Cleaning Blog
Want to learn more about cleaning? From the latest cleaning and hygiene news to handy how-to guides, why not check out our most popular blog categories.