23 Clever Ways to use Elbow Grease around the home
You've probably heard of Elbow Grease - a cleaning product which is gathering a cult following among cleaning enthusiasts and 'Hinchers'. But what is it and how do you use it?
What is Elbow Grease?
Elbow grease is an all-purpose degreaser. Its formulated to remove grease from around the home and the website claims that it is the only cleaner you'll ever need. Sound pretty tempting?!
How do you use Elbow Grease?
Elbow Grease can be used on most surfaces, from kitchen surfaces and bathroom tiles, to fabric and even machinery. Cleaning fanatics are finding endless ways to get their homes sparkling clean using this cleaning cupboard staple. For most items, simply spray your Elbow Grease on, leave for a few minutes and wipe away the grease and grime!
We thought we'd put it to the test and our Cleaning Collective team have been trying out Elbow Grease over the course of a few weeks, trialling some of the many ways it can be used around the home.
In the kitchen:
1. Remove food stains from kitchen worktops
The most common way to use Elbow Grease is for general grease-busting around the kitchen. It makes quick work of all kinds of food stains and leaves behind a refreshing citrus scent.
2. Grimy grill pan
We sprayed some Elbow Grease onto a grill pan that had been well used for bank holiday breakfast sandwiches and were pleased to see how quickly it cut through even the thickest areas of bacon grease. Simply spray it on, leave for a few minutes, then wipe down under hot water with a cloth or sponge scourer. No scrubbing and scraping!
3. Oven and stove top
Elbow Grease is great for a total oven clean, the job in your kitchen that, let's face it, you've probably been putting off! Spray it on all the oven surfaces including on the hob and the extractor fan, leave for 5 minutes and then wipe clean with a sponge scourer.
4. Greasy kitchen appliances and cupboards
Elbow Grease is amazing on the general grime you find in a busy kitchen, over time cabinets and appliances get splattered with a fine mist of grease from cooking which can be hard to shift once it builds up. Give it a spray over kitchen cabinets, appliances and all work surfaces to easily cut through any grease that's found its way onto kitchen surfaces from cooking.
5. Revive kitchen tiles
Your kitchen tiles are there to protect the walls from splashes of cooking oils and food debris, so they can easily build up grease and grime and you often don't realise how bad they've got until you try to give them a clean. Spray on Elbow Grease and the grease will come right off leaving your kitchen tiles sparkling and the grout work restored.
6. Revitalise old stained pots and pans
The bottom of pans can easily become discoloured over time, picking up scorch marks and burnt on food. You may think they are beyond fixing, but before you head to buy new pans, a bit of TLC with some Elbow Grease will get them cleaned up in no time.
7. Get the BBQ ready for summer
Don't worry, you're not the only person to pop the cover over the BBQ and leave it until the next summer. If you've opened up the lid ready for your first BBQ of the year and found last summer's burnt on food, get to work with the Elbow Grease. Remember to leave the Elbow Grease for a few minutes to really work into the grease and to cut down the cleaning effort significantly. Burnt on food will come straight off with a quick scrub from a wire brush or scourer pad.
8. Clean stained mugs
Got a favourite mug that's never without coffee or tea stains? Don't despair… it can be revived with Elbow Grease. Spray on the stains, leave for a few minutes and then either wash the cup up as normal or pop it in the dishwasher. It will come out as good as new.
9. Remove burnt on stains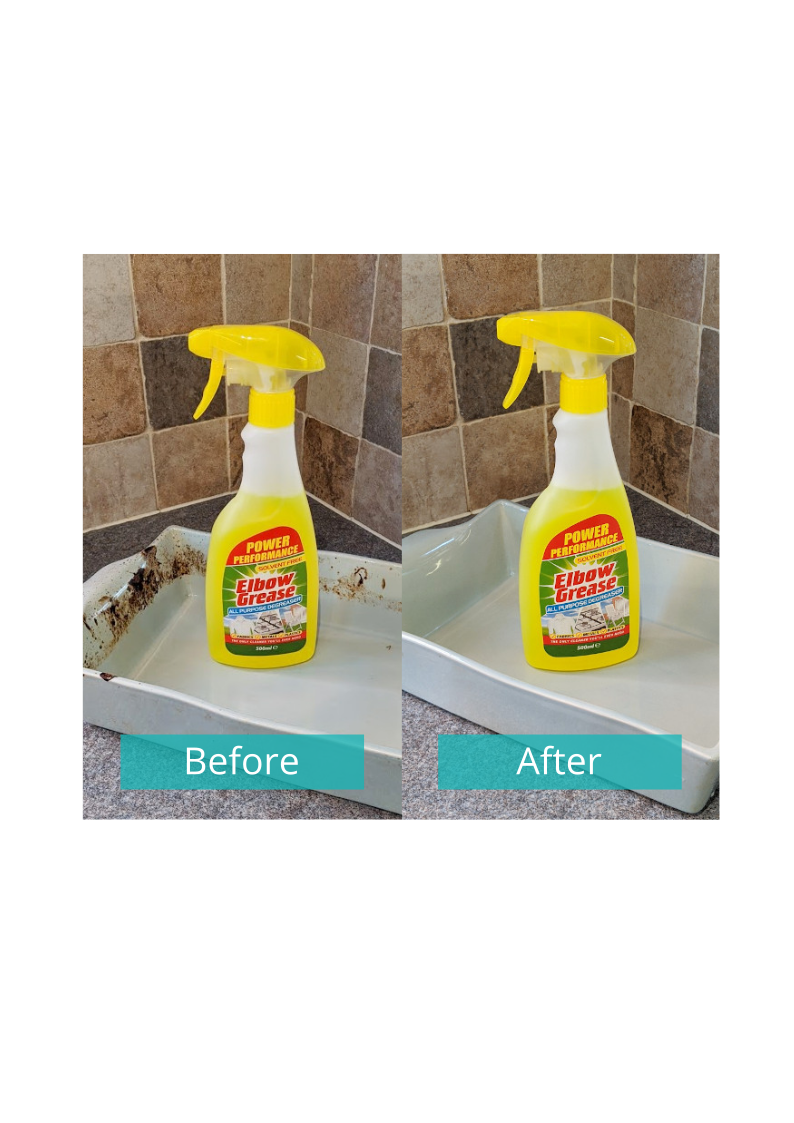 We tried this on a casserole dish with well baked-on cottage pie. Usually something that, if you're like us, would be left 'to soak' until you could muster the energy to scrub it clean. We found that a quick spray of Elbow Grease left on for 5 minutes, lifted away the burnt-on stains easily.
10. Sticky spills
Has something leaked in your kitchen cupboards or fridge? If you haven't spotted them straight away, these spills can dry, becoming sticky and difficult to clean. With Elbow Grease you needn't worry… a quick spray and wipe is all you need to rid your kitchen of those glue-like spillages.
11. Sink
It can be frustrating how much your sink seems like a magnet for grubby marks and it can be a tricky one to get truly clean. Lightly spritz your sink with Elbow Grease and wipe round with a microfibre cloth for a shine that lasts!
12. Dishwasher
Another one of those kitchen items which, when left neglected, can get grimy and suffer from build-ups of food remains and greasy residue. While the dishwasher is empty, take out the shelves, spritz all over with elbow grease and give a good wipe out.
13. Toaster
Get rid of scorch marks and toast crumbs with a light spray of Elbow Grease followed up with a soft microfibre cloth.
14. Microwave
Is your microwave suffering from a splattering of dried on food? Nothing a bit of Elbow Grease won't fix! Spray all over the inside and wipe out after a few minutes. You can also use Elbow Grease to restore shine to the front window.
Elsewhere around the home:
15. Fabric stains
One surprising use for elbow grease is refreshing stained fabrics. The degreasing action lifts all types of stains from the fibres leaving your clothes like new. Simply spray on and then pop the garment in the wash.
16. Brighten up shirt collars
They never seem to stay as bright white as when you first got them! If you've got shirts with grubby collars or cuffs, spray with Elbow Grease and then pop into the wash, they'll come out bright and clean like the day they were first bought.
17. Carpet and upholstery stains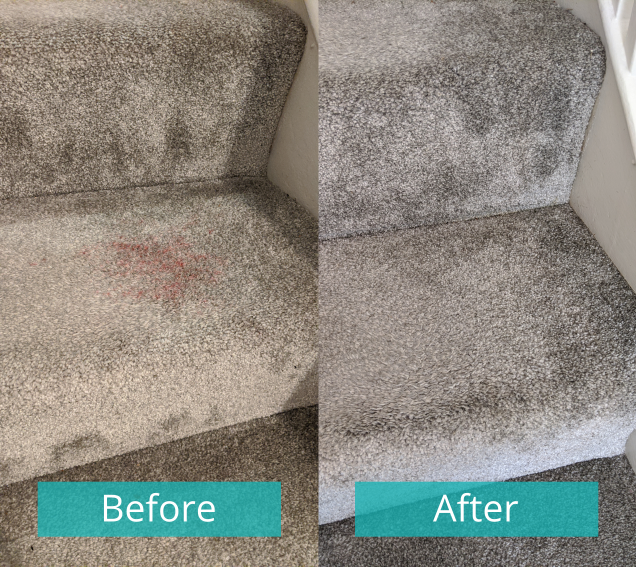 Spilt on the carpet? Don't panic! Elbow Grease is a dab hand at
removing wine stains from carpet
, tea or coffee, even nail polish. Remove any excess liquid that you can, spray Elbow Grease onto the stain, leave for a few minutes and then scrub it well. It's worth testing on an inconspicuous area to check that it won't affect the colour in your carpet or upholstery.
18. Refresh suede shoes
Tricky to keep looking as good as new, suede shoes can also benefit from the Elbow Grease treatment. Spray a small amount onto suede shoes and gently buff with a bristle brush or an old toothbrush. A dry cloth can be used to remove any excess liquid and once dried, you'll find your suede shoes looking great again!
19. Eradicate make-up stains
Spilled some foundation on your carpet? Got a dressing gown with a grubby make-up stains on the collar? The main difficulty with removing make-up stains is down to the fact that most make-up is oil-based. Cleaning with water or other products just moves the make-up around and creates unsightly smears. Not a problem for Elbow Grease! Work it into the area where you have a make-up stain and blot out using a cloth or pop in the washing machine (if it's an item that will fit!). We can testify that this works like magic after our tester had an incident with their pet dog finding and chewing up a lipstick on the carpet!
20. Brighten up your uPVC frames
Elbow Grease will make light work of scuffs, marks and grubby stains on your uPVC windows and doors. Simply spray onto your uPVC frames and wipe over with a microfibre cloth. Buffing with another clean cloth will give you the ultimate shine.
21. Engines and machinery
Everything from bike chains to car engines can benefit from the Elbow Grease treatment when excess oils have built up. Give them a spritz of Elbow Grease and watch as the greasy stains disappear with a gentle scrub.
22. Outdoor furniture
Whether left outdoors or in the shed, it doesn't take long for outdoor furniture to build up a covering of dirt and grime. With a bit of Elbow Grease, you'll be reunited with the original colour of your favourite garden furniture items!
Note: Elbow Grease isn't recommended for cleaning wooden furniture as it strips the oils. However, it can be used if you are prepping wooden furniture for an upcycle project to strip the oils ready for painting or varnishing.
23. Skirting boards and paintwork
Often overlooked, but when you get down to ground level you probably find that your skirting boards have built up dirt and grime. Depending on the area of the house you might find scuff marks in high traffic areas like the hall and stairs, in the kitchen you'll probably find a thin layer of grease. Spray Elbow Grease onto a microfibre cloth and run it along the skirting board, applying a bit of pressure to any tough marks or thicker build ups.
Is Elbow Grease worth the hype?
On every surface that we tried it out, Elbow Grease managed to easily lift off all kinds of grease and stains. We found that it cuts down the time you'd spend time scrubbing tougher stains and literally melts away light surface grease.
The most impressive part was how it lifted seemingly impossible stains out of fabrics and carpets. Our tester has a naughty puppy at home and Elbow Grease came in very handy when dealing with an incident involving a chewed-up lipstick (Check out Instagram for the proof!)
Get your hands on some Elbow Grease at The Cleaning Collective – for such an effective all-round cleaner you won't regret it!
Check out our Elbow Grease how-to video

Got any other tips for using Elbow Grease? We're sharing advice on our Instagram and Facebook pages for cleaning everything from your bathroom to your kitchen and all that's in between. Keep an eye out for your favourite products and share your cleaning tips with us to be featured on the page. Tag us and use the #thecleaningcollective

Visit our Facebook page
Visit our Instagram page
The Cleaning Blog
Want to learn more about cleaning? From the latest cleaning and hygiene news to handy how-to guides, why not check out our most popular blog categories.
Find a Solution
Search Here